If you are a cat or a kitten owner, Probably you will want to know the affordable and best cat food in India. Cat foods can be bought easily from local pet stores and online pet stores but there is always an advantage in buying online like you will get a better price, there will be a wide variety of cat foods to choose from and most importantly, cat foods will be home delivered.
The food that you will provide to your cat must always be healthy and nutritious. Food is the most important aspect of your cat's health and wellness. While it is extremely good to prepare homemade food for cats, sometimes it may miss out the necessary ingredient required in the cat's diet and it is also less affordable and time-consuming to prepare cat food from home, so the better solution obviously will be buying some best commercial cat foods to take off the weight from your shoulder.
Commercial cat foods are usually comes in Dry, semi- wet and wet state
Types of commercial cat food
Dry cat food
They are the driest form of cat food that usually contains less than 3% moisture content. Due to less moisture content, the chance of spoilage by microorganisms is very low, thus making them last for more periods of up to 1 year. They are the most convenient and economical compared to other forms of cat foods. These foods are usually in small kibble or square-shaped pellets or biscuits, packaged in airtight bags.
Semi-wet Cat Food
These types of cat foods have up to 35% of moisture content, comes in vacuum packaged sachet or pouches. They cannot be stored as long as dry foods. They are slightly expensive than dry foods.
Wet Cat food
These are the wettest form of cat foods having water content up to 75%. Usually wet foods are fed to cats along with home-cooked or dry foods. It is the most expensive form of cat food. Wet cat foods are usually the pouch with chunks of meat or Soya, filled with tasty sauce or gravy, and most loved by cats.
Due to less popularity and less demand of cat foods in India, there are not many options available in cat food, at least in local pet stores, We have selected the 10 best cat foods in India that you can buy with confidence for your beloved cat. These cat foods can be bought online and in local pet stores. Let's see some of the best cat foods in India.
1. Whiskas cat food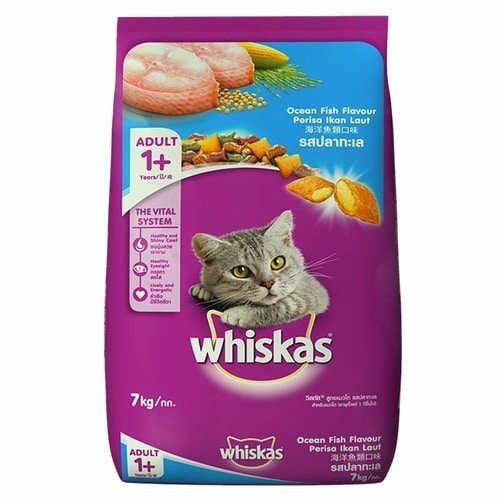 Whiskas is a popular cat food brand in India with signature purple outer packaging. They come in both dry and wet forms. They are balanced food packed with every type of nutrition that your cat requires. Whiskas cat foods are one of the most bought cat food brands in India.
Ingredients: Chicken meal or Fish meal, Cornmeal, Wheat, soy meal, Animal fat, pork meat and bone meal, Natural flavors, Chicken, powdered cellulose, Beet Pulp, Wheat flour, rice, potassium chloride, caramel, vitamins, and preservatives.
2. Drools Cat food
Drools is a prominent Indian Pet Food brand specialized in Dog and cat foods. The Drools cat food is suitable for all cat breeds as daily food. It provides all-around nutrition for your cat. It's packed with high protein content which supports growth and immunity. Drools cat food are highly nutritious and at the same time tastiest cat food. Overall It has everything to be the best cat food in India
Ingredients: Sardine, Mackerel, eggs, corn gluten meal, wheat flour, whole grain cereals, soya refined oil, Taurine, vitamins, organic minerals like zinc, iron, copper, manganese, selenium, Prebiotics, and probiotics.
3. Royal Canin cat food
This is one of the reliable brands you can trust with confidence. Royal Canin has a great reputation for its dog foods in India. Similarly, the cat foods from Royal Canin have a larger fan base in India and it is one of the best cat foods in India. Royal Canin cat food is a complete packaged food with high-quality ingredients to ensure complete nutrition for your cat. It improves the digestive health of your cat thus lowering the chance of diseases. Currently, there are more than 25 varieties of Royal Canin cat food available in India.
Ingredients: Chicken Meal, Corn, Brewers Rice, Corn Gluten Meal, Wheat, Chicken Fat, Wheat Gluten, Natural Flavors, Brown Rice, Pea Fiber, Rice Hulls, Dried Plain Beet Pulp, Vegetable Oil, Calcium Sulfate, Grain Distillers Dried Yeast, Sodium Silico Aluminate, Fish Oil, Potassium Chloride, Fructooligosaccharides, Sodium Pyrophosphate, Psyllium Seed Husk, Salt, Dl-Methionine, Choline Chloride, Egg Product, Calcium Carbonate, Vitamins, Niacin Supplement, Biotin, Riboflavin Supplement, D-Calcium Pantothenate, Folic Acid, Taurine, Trace Minerals [Zinc Oxide, Zinc Proteinate, Ferrous Sulfate, Manganous Oxide, Manganese Proteinate, Copper Sulfate, Calcium Iodate, Sodium Selenite, Copper Proteinate], L-Carnitine, Rosemary Extract, Preserved With Mixed Tocopherols And Citric Acid.
4. Meat up cat food
The highly Nutritious and palatable, Meat Up cat Food is a complete and balanced food for cats. It is formulated with essential ingredients to fulfill the cat's daily nutritional requirements. It also helps in better digestion. It supports the overall wellness of your cat.
Ingredients: Sardine, Mackerel, eggs, corn gluten meal, whole grain cereals, soya refined oil, taurine, vitamins, wheat flour, vitamins, organic minerals like zinc, iron, copper, manganese, selenium, and Prebiotics, probiotics.
5. Me-o cat food
The Meo cat food is one of the popular cat foods in India, easily available in local pet stores. It is a balanced, highly nutritious, and healthy cat food, even most loved by cats for their favorite seafood recipe. It is easily digestible and provides various health benefits to your cat, keeping diseases at bay, and ensuring better health throughout.
Ingredients: Wholegrain cereals, poultry meat, vegetable protein, fish meal, Cassava, Chicken fat, brewers yeast, fish digest, shrimp meal, squid by-product meal, iodized salt, Taurine, vitamins and minerals, antioxidants, food coloring.
6. Purepet cat food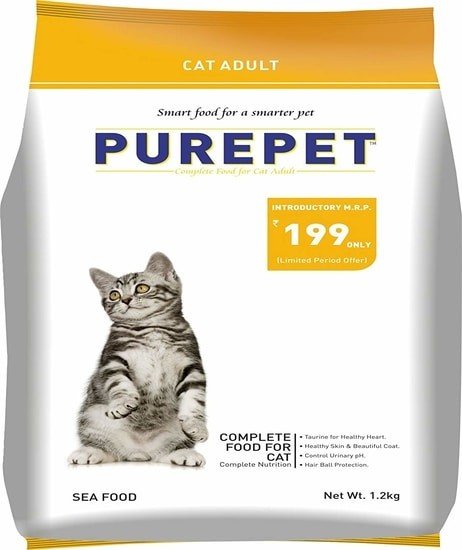 PurePet is another prominent cat food in India. They are highly nutritious and suitable for all types of cat breeds. They are in kibble form with high appetizing ocean fish ingredients which most cats love to devour. Also, Purepet cat foods are comparatively lesser in price than Whiskas.
Ingredients: Real Mackerel, Real Sardine, Egg, Corn Gluten Meal, Whole Grain Cereals, Soya Refined Oil, Wheat Flour, Taurine, Vitamins (A, E, B1, B6, B2, B12) Choline, Niacin, Folic Acid, Zinc, Iron, Copper, Selenium, Manganese, Prebiotics, and Probiotics.
7. Purina Friskies Cat Food
Purina Friskies is a cat food brand by Nestle, one of the largest and reputed FMCG manufacturers in the world. It has food options for both adult cats and kittens. Packed with complete nutrition with irresistible seafood flavors such as Tuna, Mackeral, Salmon, and Sardine that can give your cat a sensory delight in terms of taste and flavor with every meal.
Ingredients: Cereal and Vegetable products, Chicken and Chicken Products, Dehydrated Fish protein, Vitamins, Minerals, amino acids and flavors, Choline, Calcium, Phosphorous, Chloride, Copper, Iodine, Manganese, Selenium, Sodium, Zinc, Iron, Potassium, milk solids, and Colours
8. Farmina Dry cat Food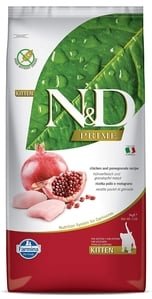 N&D Farmina can be the right option when you are looking for cat food with additional benefits. N&D range cat foods are having a low glycemic index which is very beneficial in preventing diabetes and unnecessary weight in your cat. It constitutes almost 90% real protein and antioxidants. Antioxidants are an important disease-fighting agent thus farming cat foods can be a very good option considering all the benefits it offers.
Ingredients: Chicken, eggs, oats, herring, herring fish, beet, pea, alfalfa, carrot, fibers, peas, pomegranate, apple, spinach, sweet orange, blueberry, salt, turmeric, vitamins, niacin, calcium, biotin, folic acid, choline chloride, beta-carotene, zinc, aloe vera, green tea, rosemary, and preservatives.
Conclusion
The above-listed items are currently the best cat foods in India. Though commercial cat foods are claiming or at least marketed to be the complete food containing all the nutrients required for your cat, It is always good to include home-cooked food in your cat's diet to ensure the best health for your cat.