Didog Harness – Best Picks from Didog
Of all the dog experts we interviewed, none has disagreed with the fact dog harnesses are more comfortable for dogs than collars. Harness prevents excess pressure to the dog's neck. Didog harness is one of the top-selling dog harnesses in India, here we have come out with some of our best picks from Didog.
Didog Step-in Dog Harness
This product from didog is an absolute fit for small and medium dog breeds. Its design is sturdy to withstand all the sudden pulls of dogs like a charm. The quality of the fabric, design, stitch, and everything about this harness is just top-notch. We particularly love the colour of this harness, it can look good on any dog. It is attached with 4 safety rings, just pick works for you. Putting it on your dog will also be easy like never before. It comes with a buckle, it just requires a single press to get it done on your dog.
Didog Soft Flannel Padded Dog Vest Harness, Escape Proof/Quick Fit Reflective Dog Strap Harness,Easy for Training Walking,Hot Pink S Size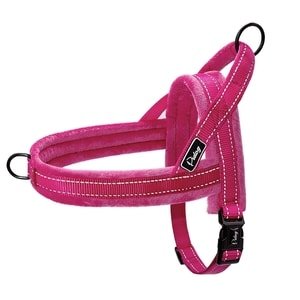 This pink colour harness from didog is an obvious choice for many dog parents having female dogs. It is lightweight, sturdy, and easy to slip on and off. Just go with it without a second thought if you have a female dog. Note: we don't have any stigma associated with pink.
Didog Soft/Cosy Harness and Leash
This Didog harness is best suitable for small dog breeds and pups. If you have breeds like chihuahua, beagle, this harness will be an absolute fit. The design is just awesome with soft cushion finish.